Bright Autism Makes Products for Children Under the Spectrum
At Bright Autism, we provide families with the essential tools, resources, and special equipment required to enhance the quality of life of children with autism spectrum disorder.
We believe that every child and parent should have access to tools and products that help them overcome common day-to-day challenges together. Check our catalog to find everything from handwriting grips to learning toys, to supplements, and innovative sensory gadgets.
We welcome you to join our community of users, including parents and specialists, and discover the products and information that will enable you to find peace and contentment at home. Join us on this journey towards a better tomorrow.
THE BRIGHT AUTISM MISSION
We are here to provide help and hope to families who deal with the challenges of autism and sensory processing disorder in a child every day. Our autism supply store online features a wide variety of autism items and accessories to help with overall health, sensory development items, and toys for a variety of ages.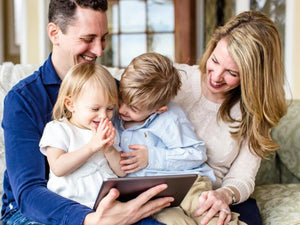 Let customers speak for us
Featured Product

Calming Sensory Sea Lamp
Children on the spectrum are known to have difficulties either falling or staying asleep, or both. When sleep is hindered, the day ahead feels a lot harder to manage and can result in a variety of behavioral issues in the child. This calming sea lamp mimics the calming sounds of the sea accompanied by an ocean wave projector that creates a relaxing environment in the room. 

Learn More
Featured Product
TAP-TAP Led Lights - Sensory and Visual Stimulation
Our Hexagonal Tap-Tap Led Lights are a great way to process visual stimuli necessary for self-regulation. These lights are designed to turn on and off with the swipe of a hand, projecting different colors. This helps children to focus their attention in one activity, improving communication skills and reinforces concepts like cause and effect.


LEARN MORE

Discover Specialized Items to Navigate the Spectrum
The supplies you depend on play a major role in your child's development. Products like handwriting tools, special needs toothbrushes, volume-reducing earmuffs, calming oils and Nighty Night Gummies go a long way in providing a sense of normalcy and comfort. Children with autism require a specialized approach to parenting, so it's no surprise that specialized supplies are so vital, especially during their formative years. Bright Autism is your one-stop-shop for a wide range of products that are thoughtfully made to meet the needs of parents and children. Together, we can foster a sense of wellness and hope that starts at home and reverberates throughout the community and into the world. Here at Bright Autism, we firmly believe that even small steps forward can be transformative, so let's get started.
AUTISM EQUIPMENT COLLECTION
Browse favorite autism items that have helped families across the country. From the Vibes Earplugs that were featured on the TV show Shark Tank to our Calming Sensory Sea Lamp, products from Bright Autism are sure to enhance the development and happiness of your child.
Let customers speak for us