PRODUCT DESCRIPTION
7 color-changing lighting modes.
4 relaxation Sounds. (Forest Insect, Ocean Wave Sea Gulls, Flowing Water Birds and Merry Nature)
Plug it into your computer, phone, or MP3 player to play your own music.
Auto-Off Timers.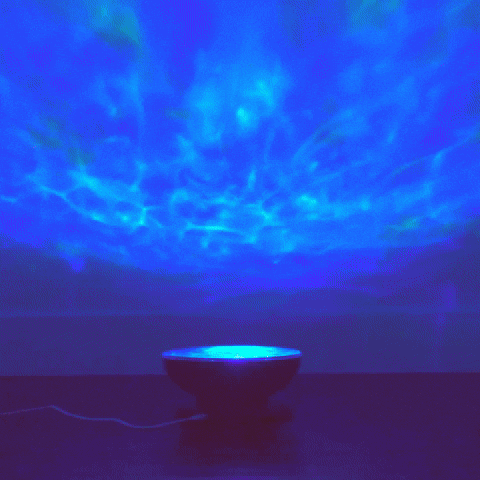 This breathtaking lamp recreates a gorgeous ocean-atmosphere that delights and soothes children with ASD, ADHD, and special needs.
Discover Quality Supplies and Helpful Resources
We carry a wide variety of sensory products, anti-stress items, homeschooling supplies, and so much more. The autism products you use can make a major difference for the whole family, and that's why we only carry autism products that are vetted by the community. Shop with confidence, and be sure to browse our autism blog for helpful information. You're never alone with the autism community on your side!
This sea lamp is just one example of how one product can lead to a calmer home. When your child sleeps well, you do too! If you have any questions about these calming lamps or any of our other products, please contact us now to speak with a friendly product specialist.  Calm your child and bring serenity to your home with this beautiful calming lamp.
*Note for UK / IRELAND: The destination country will require duties and taxes to be paid. The responsibility of the duty and tax charges lies in the hands of the end customer. Unfortunately, we do not have control over this matter, so we can not estimate nor control it.
Sensory Sea Lamp
The concept is good the product is good. But I think my grandson is too young for it. It's just a bright light that lets him stay awake longer but as he gets older and I'm able to reason a bedtime with him since he's nonverbal I'm sure that light will help sooth and calm him. I love it.
Calming sensory Sea lamp
My 3 children who are on the spectrum love there lamps puts them to off to sleep
So nice and peacefully. Also like the power option saves playing around with batteries
As the lamps are on for up to 15 hours at a time... worth the money. Thank you.
My 9 yr old ADHD child loves the lights and sounds. I only wish calming music was offered on the machine as one of the button options.
Happy to say you can plug it into a wall outlet using a USB
cord and charging block!
That really saves on batteries!
Prefect for my four year old grandson.
Amazing
My granddaughter luvs it calms her down & she is asleep within minutes