<< Works for lefties too! >>
Handwriting struggles can be some of the most challenging obstacles in children and young adults as they're growing up. Without the skills to write clearly and effectively, many kids pull away from their studies and experience issues with low self-esteem.
This pack includes:
2 PenAgain Pencil (Pink + blue)
Ergonomic Training Pencil Grip (3pack) - Two Fingers  
PenAgain Pencil
PenAgain is a special Pencil, particularly helpful for children with weak fine motor skills, ADHD, ADD, Autism, Down Syndrome, and Juvenile Arthritis. Its unique "Y" design provides the ideal grip for maximum control and consistency while reducing stress on the hand.  It takes advantage of the natural weight of the hand rather than rely on the child's ability to grip the pencil. It's a highly effective tool that increases the child's ability to adopt the proper writing form sooner than had he used a conventional pencil.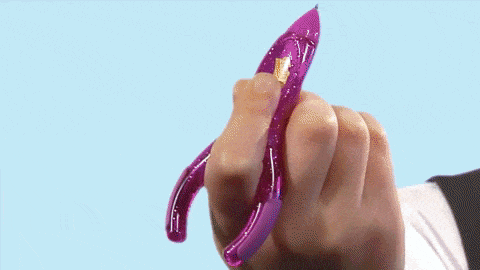 Ergonomic Training Pencil Grip (3pack) - Two Fingers
This Pencil Holder improves handwriting, helps to give more control, and reduces hand fatigue that comes with writing the wrong way.
Just put your kid's thumb and index finger into the holes (designed to suit their fingers properly) and then hold the ring with their middle finger.
Effectively prevent the thumb and index finger cross; In this way, their three fingers can be fixed tightly.
Great for kids with handwriting problems
My son has low muscle mass, and has an ongoing struggle with handwriting. These have been very helpful.
Thank you thank you!
Thank you. My son writing was a mess. Even the teacher was having problem with him. Then I bought this pack. This is a most have for early years in school.
Very Helpful!
My son's handwriting has improved dramatically!
Good pack
These are perfect for my 4 year old who I'm trying to teach how to hold a pencil. I recommend for little hands.
Must have pack
Must have pack for a new preschooler. It works so well! Good products.