This is the perfect art toy for indoor and trips: Just fill the pen with water, and create on the magic card. Kids are fascinated as colorful images spring up, then slowly fade away. You can let your child's imagination run free. 
Simply fill the magic pen with water and draw on the card to display the color. Absolutely safe and tidy.The pen's dye is water, non-toxic and easy to clean. 
KEY FEATURES: 
Promotes fine motor skills and drawing skills.
Absolutely no mess: Requires no ink. Just fill the magic pen with water.
Reusable: Drawing will magically disappear as it dries, you can reuse this water drawing card as much as you like.
Easy to take with you anywhere. A travel essential for those with kids.
Inspire your kid's creativity and imagination; exercise hand-eye coordination & the color perception ability.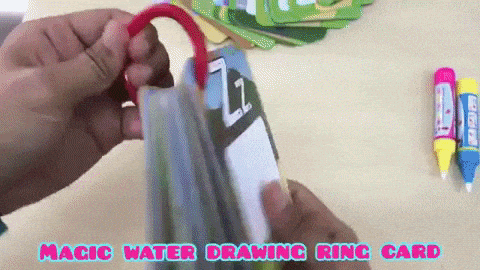 Before painting, it is best to soak the pen in water for about 5 minutes to avoid dripping damage to the card.
Recommended Product: Magnetic Learning Board
*Note for UK / IRELAND: The destination country will require duties and taxes to be paid. The responsibility of the duty and tax charges lies in the hands of the end customer. Unfortunately, we do not have control over this matter, so we can not estimate nor control it.
love it
The cards we really cool, I didn't know these exist. My kids really wanted to go to the sink to fill the water pen and practice the letters. The cards also came with words on the back, so after they write the letter in front, I read them the words on the back. I would try taking these when we fly like others recommend.
love themmmm
Love waterboards to keep my kids quieter and occupied. Both my 5 year old and almost 3 year old love these, we use them for church or on the go when they need to be occupied and sitting for some time.