The SeaLamp™️ is the ultimate sensory lamp that calms kids, and helps them fall asleep quickly.

The calming waves work wonders at improving your child's sleep habits.
Sensory lights for autism is a common technique with incredible results. It creates a magical ambient glow that provides positive sensory stimulation while also instilling a sense of calmness and relaxation. 
Immerse in worlds of sensory seascapes.
No more hard nights! Proven to induce sleep.
Ideal for kids with ASD, ADHD & more.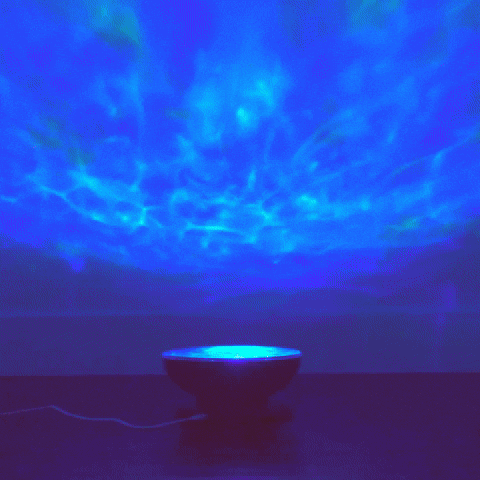 7 color-changing m

agical seascapes:

Choose from seven different colors or "seascapes" that mesmerize children, make them feel calm and able to sleep
4 relaxing sounds. Choose from four different calming sounds. Kids love the choice and usually have a favorite. (Forest Insect, Ocean Wave Sea Gulls, Flowing Water Birds and Merry Nature)

Automatic timer: Choose to run the SeaLamp for up to 2 hours. Either one or two hours depending on your child's needs. 
Volume adjustment: Full control over the volume. Every child is different and likes different levels of the sound. 
Behavior problems: Bring peace into your home. When your child sleeps well behavioral issues goes away. 
Deep sleep: SeaLamp helps boost sleep quality by creating an ideal sleeping and resting environment. 
Sensory stimulation: Designed for kids with ASD, ADHD and Special Needs. It provides the perfect sensory stimulation to calm and soothe.
No more difficult nights: The moving waves and sounds help children fall asleep in minutes. When your child sleeps well, you do too. 
Plug it into your computer, phone, or MP3 player to play your own music.
"80%" Of Kids On The Spectrum Suffer From Sleep Difficulties"
Here at Autism Bright, we know the challenges parents face raising kids. It's reported that 80% of children with ASD have a hard time sleeping or staying asleep.
Jumping out of bed after settling them in or waking up and having a hard time falling asleep again. To make matters worse; sleep issues worsen behavioral challenges, interfere with learning and decrease overall quality of life.
This breathtaking lamp recreates a gorgeous ocean-atmosphere that delights and soothes children with ASD, ADHD, and special needs.

Fully Immerse in the sensory environment with not only the waves projected on the ceiling, but also an array of calming sounds.
Flowing Water & Birds: Relax completely with the sounds of flowing water and singing birds.
Sounds Of Nature: Drift away into a deep sleep with the different sounds of nature.
Forest Insects: You're transported into the jungle with the subtle sounds of forest insects walking around.
Ocean Waves & Sea Gulls: Enjoy the ultimate calming noises of the oceans as you hear waves crashing against the shore and sea gulls

Sensory Stimulation: Children with autism often have sensory processing differences, which can lead to sensory overload or sensitivity to various stimuli. Calming sea lamps provide controlled and predictable sensory input, offering a visually engaging and soothing experience. The gentle waves of light and the rhythmic sounds can help regulate sensory responses and create a calming environment.

Visual Focus: Many children with autism have difficulty maintaining attention and focus, especially on tasks that require sustained concentration. The gentle and repetitive visual patterns created by sea lamps can serve as a focal point, helping children redirect their attention and engage with the calming display. This can be particularly helpful for activities like reading, relaxing, or even completing tasks.
Relaxation and Anxiety Reduction: Children under the spectrum often experience heightened levels of anxiety and stress due to challenges in social interactions and sensory sensitivities. Calming sea lamps can help alleviate anxiety by providing a soothing environment that encourages relaxation. The visual and auditory stimuli can help shift the focus away from sources of stress and promote a sense of calm.

Sleep Enhancement: Sleep disturbances are common among children. The calming effects of sea lamps, combined with the gentle audio accompaniments, can create a bedtime routine that signals the body and mind to wind down. The gradual transition from active play to a tranquil environment can help children with autism establish a more consistent sleep routine and improve the quality of their sleep.

Self-Regulation: Children with autism often struggle with self-regulation, meaning they may have difficulties managing their emotions and behaviors. The predictability and controllability of calming sea lamps can serve as a tool for self-regulation. Children can learn to use the lamps as a coping mechanism when they feel overwhelmed, helping them regain a sense of control over their sensory experiences.

Shop with confidence, and be sure to browse our autism blog for helpful information. You're never alone with the autism community on your side!
If you have any questions about these calming lamps or any of our other products, please
contact us
now to speak with a friendly product specialist.  Calm your child and bring serenity to your home with this beautiful calming lamp.
Perfect for bedtime
My grandson loves his bedroom - it's his space abd this light was a great addition to his bedtime regimen. Great choice for a great little boy!!!
Bright Autism Calming Sensory Sea Lamp
Great gift for autistic 3 year old grandson!
I have t seen this gift opened but my son and daughter-in law love it and more importantly my grandson loves it! A wise choice of part of his holiday gifts!
Lovely product
It's soothing and helps me sleep and have better dreams I'm autistic.
Great light- beautiful sea lamp
My daughter loves the light- it covers a lot of the ceiling and is lovely.