PRODUCT DESCRIPTION
Quality Ingredients Crafted by Experts
This handy calming oil roll-on is easy to apply anytime, so keep it in your pocket so you always have a quick solution on hand.
Essential oil blend:
Mandarin
Orange
Tangerine
Lavender
Roman Chamomile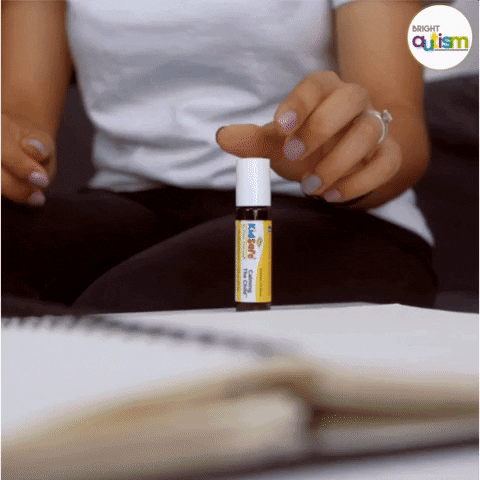 The oils are diluted in a fractionated coconut carrier oil. This premium kids' essential oil goes through multiple testing rounds from third-party laboratories, including organoleptic testing by Robert Tisserand, a trusted essential oil expert. Simply roll it on your child's chest or back of the neck 30 minutes before bedtime to help them fall asleep.
KEY FEATURES:
100% PURE OIL CRAFTED BY EXPERTS:

 

Our Aromatherapists use only 100% Pure, undiluted essential oils. The KidSafe Calming The Child Pre-Diluted Roll-On is pre-diluted with Fractionated Coconut Oil making it ready to use.
BATCH SPECIFIC GC-MS REPORTS ON EVERY OIL:

 

Every bottle of oil from Plant Therapy goes through multiple rounds of testing including organoleptic testing by Robert Tisserand, an essential o

il expert, and multiple rounds of GC-MS testing by several third-party laboratories.

HIGH-QUALITY AFFORDABLE ESSENTIAL OILS:

 

At Plant Therapy our goal is to positively impact the lives of as many people as we possibly can, by selling such a high-quality product at an affordable price.
HOW TO USE:
Roll it on your
child's chest or back of the neck 30 minutes before bedtime
to help them
relax
and transition to bedtime.
✓ Non-GMO
✓ Organoleptic and GC/MS Testing
✓ Batch Codes on Every Bottle
✓ KidSafe Formulations
✓ Certified Aromatherapists
Browse Resources and Shop Supplies
Our kids' essential oil is just one of many anti-stress autism supplies we have available. We also carry sensory products, health items, and so much more. In addition to making it easy for you to buy the home essentials you need, we strive to be your go-to source for valuable parenting information, tips, and ideas. Check out our autism blog for the latest updates.
Complete your purchase wit our SLEEP GUMMIES FOR KIDS:
As many as four in five children with autism spectrum disorder struggle with getting a good night's rest, but our sleep gummies for kids can help. These calming gummies taste great, so kids will love taking them before bed.  LEARN MORE HERE 
*Note for UK: The destination country will require duties and taxes to be paid. The responsibility of the duty and tax charges lies in the hands of the end customer. Unfortunately, we do not have control over this matter, so we can not estimate nor control it. 
Contact Us for Expert Advice
We're here to support you on your journey as a parent, and we encourage you to contact us anytime. We have certified aromatherapists on staff, so please don't hesitate to get in touch to learn more about this autism calming oil. Shop autism supplies for kids with full confidence now, and be sure to get in touch with us to see if your product qualifies for free shipping.
2pack PlantTherapy Essential Calming Oil Roll-On -10ML
This is my second time ordering. Have notice a great difference with my grandson!
Calming oil
Yes thus oil seems to calming my 6 year old son.I put especially before his therapy,n it works .He is calm throughout the session and focused.Thanks
2pack PlantTherapy Essential Calming Oil Roll-On -10ML
So Thankful
Ordered for my 7 year old grandson , who has Autism. He was having multiple meltdowns daily . Started using this , and in about 5 minutes , he is fine . I am usually very skeptical about such products . Have ordered several , and the fell very short of the claims . However , please believe this Gigi , product really works on my grandson , hopefully it will help some of you . I know firsthand the daily struggles .