Sensory toys provide particular sensory information needed by children with autism or special needs.
🌦️This Rainmaker provides soothing rain stick-like sounds with each turn🌦️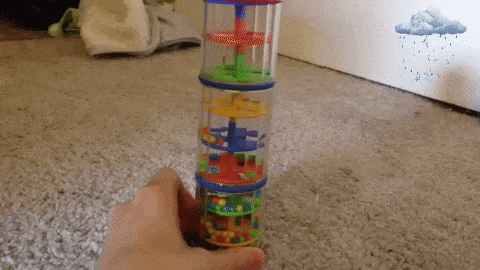 The bright colors, soothing noisemakers, and textured walls engage visual, auditory, and tactile senses. Gripping, shaking, and tracking the beads develops coordination, engagement of mental skills, and building of fine and gross motor skills. 
BUILD MOTOR SKILLS: Shaking and gripping motions allow for development of fine and gross motor skills
SENSORY DEVELOPMENT: Bright colors, fun noisemakers, and textured sections engage visual, auditory, and tactile senses
ENHANCE LOGIC AND REASONING: Sensory engagement and tracking of beads allows for engagement and development of mental skills
VISUALLY STIMULATING: Colorful design allows for visual sensory engagement and development of color recognition skills

Recommended for ages 6 months and up; product is made with BPA and phthalate free plastic
*Note for UK / IRELAND: The destination country will require duties and taxes to be paid. The responsibility of the duty and tax charges lies in the hands of the end customer. Unfortunately, we do not have control over this matter, so we can not estimate nor control it.
Awesome little sensory item!
I bought this for the sensory center in my pre-k classroom for students with autism. It has been a hit! Every single one of my kids has taken an interest in it at some point.
Cute Handheld Children's Toy
My 13 month old son loves music, and he finds the sound of the beads in the rainmaker so entertaining. He holds and shakes the toy like a rattle, but he also loves it when we slowly turn it and move the beads around for him to watch.
Perfect toy all around
Perfect toy all around. I have a four year old who is autistic and this is the perfect toy for him to stim-out to. He loves to watch the beads drop and it gives the satisfying noise as well unlike the colored oil/water droppers (which he also loves)!
Perfect
Bought this for my son who is 2. He doesn't speak yet and he loves the sound of the tiny balls going down.