Rainmaker Sensory Toy
---
Sale price
$16.55
Regular price
$20.00
Sensory toys provide particular sensory information needed by children with autism or special needs.
🌦️This Rainmaker provides soothing rain stick-like sounds with each turn🌦️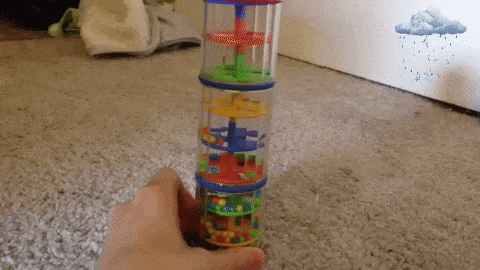 The bright colors, soothing noisemakers, and textured walls engage visual, auditory, and tactile senses. Gripping, shaking, and tracking the beads develops coordination, engagement of mental skills, and building of fine and gross motor skills. 
BUILD MOTOR SKILLS: Shaking and gripping motions allow for development of fine and gross motor skills
SENSORY DEVELOPMENT: Bright colors, fun noisemakers, and textured sections engage visual, auditory, and tactile senses
ENHANCE LOGIC AND REASONING: Sensory engagement and tracking of beads allows for engagement and development of mental skills
VISUALLY STIMULATING: Colorful design allows for visual sensory engagement and development of color recognition skills

Recommended for ages 6 months and up; product is made with BPA and phthalate free plastic