These Magnetic Blocks shapes and patterns provide great motor skills. Encourages imaginative and creative play and enhances math, geometry and science skills.
As they build, kids develop tools for spatial problem-solving tasks, logical thinking and math reasoning. Blocks easily connect and inspire creativity, brain development patterning, shape recognition, building and motor skills.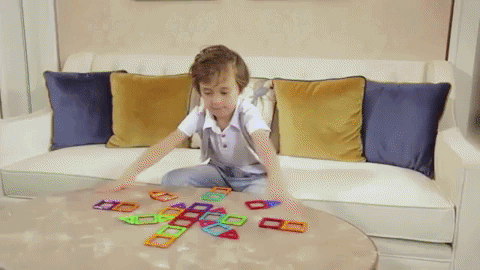 Magnetic Building Blocks attract on all sides and the combinations form many different shapes and structures. From flat designs to squares, pyramids, plus many more unlimited geometric shapes.
Tiles easily connect, which prompts kids to move from constructing two-dimensional to three-dimensional creations. 
Parents noted that while the basic idea is building and playing they saw that their children were learning physics, geometry, math, spatial reasoning and architecture without even knowing it.
*Due to Covid-19 you may experience shipping delays. We apologize for this inconvenience.*
Hours of Fun
These are awesome! My boys couldn't be happier with them. My 4-year-old will play for hours...The magnets are strong and the blocks are sturdy. The magnet blocks are in perfect condition despite daily use. We love it because he get to stop playing with his electronics and this he can be creative and create whatever he want. I totally recommend this products to any toddlers.
Beautiful set of blocks
Beautiful set of blocks, work really well, gives plenty of creativity , works for all ages..Not eating size or loose parts, definitely worth the purchase! helps fine motor skills and hand eye coordination as well , great toy set, definitely recommend !!!!
Good quality and lots of fun
Every thing was good about the amazing item. My kids made so many different things out of the blocks. This is very colorful and just so many things that can be made with your imagination. This toy is not only fun but it makes you think and use logic to make many different things. In fact I would like to buy another set of these amazing blocks.