-Victoria ⭐⭐⭐⭐⭐

My son had no interest in writing at all. Since getting these pencil grips he is so excited to write and scribble. It's amazing the encouragement the designs and color gave him to want to do it FINALLY! 
Young children move through a series of stages as they are learning to write.  The ability to put your thoughts into sentences and paragraphs that others will be able to read and understand is problematic for many children with ADHD.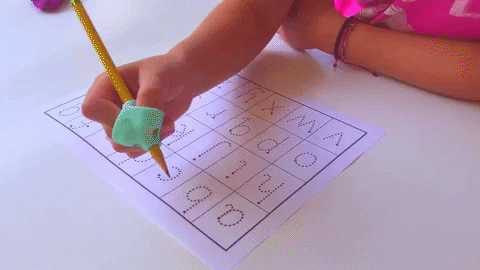 Children with ADHD may also be developmentally delayed in their fine-motor skills — the small muscle movements required in writing.
When the physical act of writing is challenging, it interferes with being able to "show what you know." It's not surprising, then, that children with Autism often hate to write, and resist doing so. When a child encounters such classroom defeat frequently, especially in the early years of schooling, it doesn't take long for him to get discouraged with academic work, and to develop a sense of inferiority that undermines his attempts to learn.

Writing aids can actually be more than helpful–they can be fun! Plus, they build coordination–a skill that is useful for much more than writing.
Paced Transition is Key:
Stage 1 Grip: Has a ring on the back to guide the middle finger to the right position to leverage the grip.  The structure that holds the thumb and index helps the transition to the next stage.
Stage 2 Grip: When ready, use this grip to set free the middle finger and keep reinforcing the index and thumb with more comfort and fun.
Pack contains 6 grips: 3 stage one + 3 stage two. 
<<Work on lefties too!>>
Why 2 Stages?
When Bright Autism's customers speak, we listen.
Over the years, customers have given us phenomenal feedback about writing grips. They told us how much it has helped their children, how it has been a game-changer since they used it and how their children built confidence after learning to write correctly. 
They just had one request: they needed to guide their children at their own pace, without big changes.
We're proud to announce: We now have what customers asked for. Our new development will create a stress-free and paced learning to grip so much fun! 


The Stage 1 Grip is specially designed for kids who are learning to write or have grip problems. Guiding your kids by immobilizing the fingers is an easy and fun way to learn.

The Stage 2 Grip improves handwriting, helps to give more control, and reduces hand fatigue that comes with writing the wrong way.
Kids adapt easily and find comfort with these pencil holders. They can learn at their own pace and will keep a positive habit even after the transition to a gripper free. Think of it like training wheels on a bicycle.
WORK FOR LEFTIES TOO!
Best so far!
I'd definitely recommend!!These are my favorite so far!! I homeschool and it's always a struggle to properly teach how to hold a pencil and frustrating for our kids (ages 4-6) but I've been using these and it helped wonderfully!
Great learning tool !!
My grandchildren started holding pencils, crayons at odd angles. Awkward angles. One is left handed, other is right handed. These grips worked wonders almost immediately. On their next weekly visit to me they asked to use again to make sure they were holding them correctly! And they were.
Helpful for preschoolers
These have been a tremendous help with teaching my 4 year old to write! He loves the bright colors.
Great Product
Great for kids learning to write!
Excellent
Support the writing skills of young inexperienced writers.