Guide your children to hold their pen or pencil!
Young children move through a series of stages as they are learning to write.  The ability to put your thoughts into sentences and paragraphs that others will be able to read and understand is problematic for many children with ADHD. 
Children with ADHD may also be developmentally delayed in their fine-motor skills — the small muscle movements required in writing.
When the physical act of writing is challenging, it interferes with being able to "show what you know." It's not surprising, then, that children with Autism often hate to write, and resist doing so. When a child encounters such classroom defeat frequently, especially in the early years of schooling, it doesn't take long for him to get discouraged with academic work, and to develop a sense of inferiority that undermines his attempts to learn.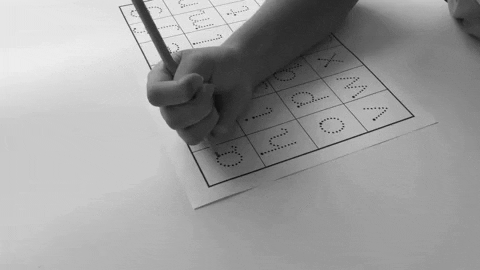 Writing aids can actually be more than helpful–they can be fun! Plus, they build coordination–a skill that is useful for much more than writing.
This Easy Writing Set - Writing Assistant includes the Learning and Training Pencil Grips that can help your kid with the whole process of learning to write. 
Learning Pencil Grip STAGE 1 (3pack)
-FOR RIGHTIES AND LEFTIES-
Made from soft, non-toxic and environmentally friendly silicone, this pencil holder is a very useful and important tool to train your kids for gripping the pencils correctly.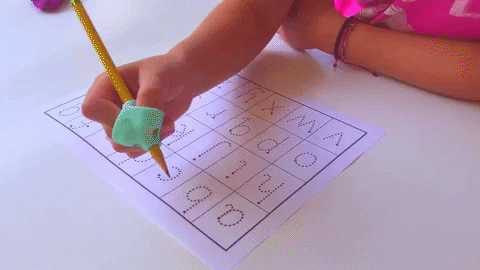 This Pencil Grip is specially designed for kids who are learning to write, guiding your kids by immobilizing fingers on the designated proper position. 

Consistent use teaches and reinforces the proper grip, and stops common problems like fist grips, thumb-wrapping, and white-knuckling. 
Our soft pencil grip can help your kids to relieve pressure, at the same time lead them to write in a correct way. 
The "triangle of force" is adapted in the pencil grip design, which helps children hold the pens more firmly.
How to use it
Just put your kids thumb and index finger into the holes of side, which is designed to suit their fingers properly, and then hold the ring with their middle finger. 
SPECIAL FEATURES
Provides

 

writing control

 

for children with poor fine motor skill.
Soft bright color

 

provides more choices for you and

 

stir up kids interests.
Soft & Comfortable

 

material

 

reduce the finger pressure,

 

relieve writing pain

 

and

 

discomfort.
It fits on pencils, colored pencil, pens, crayons and other drawing tools.

Eco-friendly silicone.

Latex-free material. 

Safe & Tasteless

 It not only helps correct writing grip posture but also makes the writing more fun.
Training Pencil Grip STAGE 2 (3pack) 
The Pencil Holder improves handwriting, helps to give more control, and reduces hand fatigue that comes with writing the wrong way.
As a parent, your child's independence is very important to you. Many children can be fussy when learning how to write, especially if they feel like they can't hold their pencil the right way, or if they feel like they can't learn from who's teaching them.
This Ergonomic Pencil Holder allows your child to hold their pencil the right way—on their own terms! They can learn at their own pace and will keep their positive habits even after they use this pencil holder. Think of it as training wheels on a bicycle.
Or, if your child prefers, he or she can use this pencil holder even after they've developed positive writing habits. Its comfortable and flexible design makes it long lasting, and appropriate for everyday use.
It can help prevent skin irritation and blisters, and discomfort that might come from pressing too hard with a pencil.
No matter your child's writing habits, they will find comfort in this pencil holder. Plus, it's made of completely safe eco-friendly silicone, so you won't have to worry if your child chews on it.
How to use it? 
Just put your kids thumb and index finger into the holes (designed to suit their fingers properly) and then hold the ring with their middle finger.
Effectively prevent the thumb and index finger cross; In this way, their three fingers can be fixed tightly.
Because is made from high-quality silicone, these pencil grips are absolutely safe and environmentally friendly. 
KEY FEATURES: 
Ergonomic
Works on lefties too

Soft, flexible.

Comfortable & Easy to hold.

Eco-friendly silicone.

Latex-free material. 

Safe & Tasteless