This Pad is perfect for encouraging your children to take part in artistic activities, learn to draw and paint, improve hand-eye coordination and color perception along with so much more while making sure they have fun.
3D LED drawing board lets your little ones create stunning 3D art on their own that looks just like the real thing!
KEY FEATURES:
EVERYTHING YOU NEED: Our kids drawing pad is easy to use and comes with everything your kids need to get started.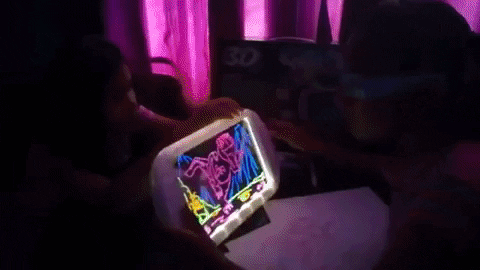 PORTABLE & EASY TO USE: Whether you're going on a car trip or visiting friends or family, you can count on our glow pad to keep your kids occupied and entertained the entire time!
HOW TO USE: Simply draw on the transparent board, insert the board into the base, wear your glasses and turn it on to see the 3D image. The base lights up your drawings using 5 LED lights. 
Features You'll Love
This magic 3D drawing board is a fun, educational toy designed to stimulate creativity.
Can easily be cleaned using the wipe cloth to reused 
Can be used at home or when travelling to keep kids occupied
Helps kids get involved in the world of art at a young age 
Made using high quality, non-toxic and safe to use materials
PACKAGE INCLUDES: Each set includes a 3D drawing board along with one 3D glasses that let your kids view their drawings in 3D along with 6 drawing papers, 4 highlighter pens, 1 wiping cloth, and 1 battery operated base.
*Note for UK / IRELAND: The destination country will require duties and taxes to be paid. The responsibility of the duty and tax charges lies in the hands of the end customer. Unfortunately, we do not have control over this matter, so we can not estimate nor control it.
Love it
My kids love it, thank you.
Incredible product
Amazing toy for childs, Loved all the other drawing boards and the colors.
Really is 3D
This is really cool. The 3D effect works amazing our child really enjoyed it.