Handwriting struggles can be some of the most challenging obstacles children and young adults with autism face as they're growing up.
For most kids, learning handwriting can be dull and repetitive, but it's a task mastered midway through elementary school.
For many children with autism, though -- even those with higher IQs than most -- handwriting becomes an arduous chore, because the very act of writing letters takes them so long to do.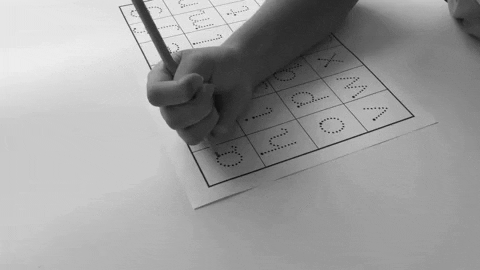 As difficult as it can be for children on the Spectrum, there are ways to improve handwriting skills for those with autism. 
Focusing on improving fine motor skills can help boost handwriting performance of a child with autism.
Writing aids can actually be more than helpful–they can be fun! Plus, they build coordination–a skill that is useful for much more than writing.
Pencil Grip Stages: STAGE 1
-FOR RIGHTIES AND LEFTIES-
Made from soft, non-toxic and environmentally friendly silicone, this pencil holder is a very useful and important tool to train your kids for gripping the pencils correctly.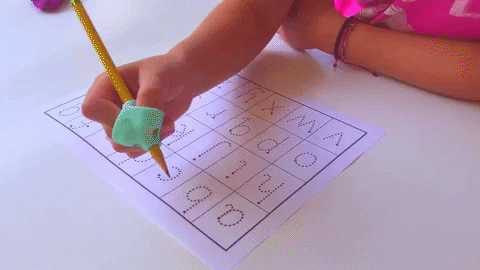 This Pencil Grip is specially designed for kids who are learning to write, guiding your kids by immobilizing fingers on the designated proper position. 

Child's pencil grasp. Consistent use teaches and reinforces the proper grip, and stops common problems like fist grips, thumb-wrapping, and white-knuckling. 
Our soft pencil grip can help your kids to relieve pressure, at the same time lead them to write in a correct way. 
The "triangle of force" is adapted in the pencil grip design, which helps children hold the pens more firmly.
How to use it
Just put your kids thumb and index finger into the holes of side, which is designed to suit their fingers properly, and then hold the ring with their middle finger. 
SPECIAL FEATURES
Proper Pencil Grip: Provides writing control for children with poor fine motor skill.
Soft bright color provides more choices for you and stir up kids interests.
Soft & Comfortable material reduce the finger pressure, relieve writing pain and discomfort.
Training pencil grip
It fits on pencils, colored pencil, pens, crayons and other drawing tools.

Eco-friendly silicone.

Latex-free material. 

Safe & Tasteless

 It not only helps correct writing grip posture but also makes the writing more fun.}
*Note for UK / IRELAND: The destination country will require duties and taxes to be paid. The responsibility of the duty and tax charges lies in the hands of the end customer. Unfortunately, we do not have control over this matter, so we can not estimate nor control it.
Pencil grips
Great products to use for students.
Boys can hold pencil on their own
Learning Pencil Grip STAGE 1 (3pack)
Pencil Grip Stage 1
They really help my child it guides his hand very well. Wish y'all had bigger ones to fit big markers and big crayons.
Great learning tool !!
My grandchildren started holding pencils, crayons at odd angles. Awkward angles. One is left handed, other is right handed. These grips worked wonders almost immediately. On their next weekly visit to me they asked to use again to make sure they were holding them correctly! And they were.